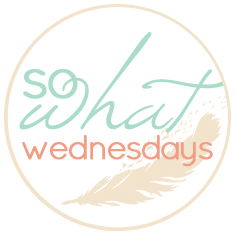 So
WHAT
if...I make our laundry soap and baby wipes? Do you have
ANY idea
how much money we save that way? Well, neither do I...I
have
to figure that out at some point.
So
WHAT
if...Princess doesn''t exactly talk yet? She communicates, obviously can hear since she does things we ask her to, and she's wicked smart. So, S.s EX can lay off of the nasty looks when she hears that Princess doesn't talk. The EX doesn't have a second child does she? No, she doesn't. So she has nothing to say.
So
WHAT
if...S and I took the fam out to dinner Saturday night? It was good and a fun time, and it was awesome hearing so many compliments from people who actually
know
our family.
So
WHAT
if...we all had a ridiculously good day Sunday full of lots of family time?
So
WHAT
if...I freaked out the other day because there was a spider on my forehead?
So
WHAT
if...because of the warm weather and spending so much time outside has meant that the housework has been neglected a little.
So
WHAT
if...I desperately need to paint my toenails?
So
WHAT
if...I'm loving dressing Princess in skirts but not needing the tights?!
So
WHAT
if...I taught my kiddos how to drink out of the hose the other day? That's what childhoood is all about!
I guess that's it for now!
Hope everyone has a wonderful week!