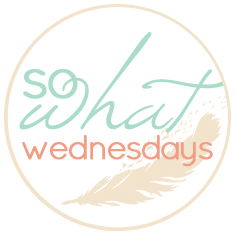 Head on over the Shannons
Life After I "Dew"
to link up to this awesome blog hop!
This week....?
So WHAT if...S and I watched "Anchorman - The Legend of Ron Burgundy" last night? You all know that it's ridiculously funny - and you know you want to watch it now too.
So WHAT if...my coffee consumption has gone down? I used to drink a pot a day...I'm not really sure what has happened so that I'm only drinking maybe 2 cups a day, but it's ok.
So WHAT if...I'm craving a banana/peanut butter smoothie?
So WHAT if...I'm making smoothies every day because I'm ridiculously excited about having bought a new blender?
So WHAT if...S and I are talking about me going back to school? :D
So WHAT if...our landlord would like to have the rent early? We got it!
So WHAT if...I've been neglecting my Etsy business a little bit? Actually, no, that's not a "so what". I need to get on top of that shizz.
So WHAT if...there are still things that I need to add to my blog, things I have to do to pretty it up a little bit more? Sometimes, there's more important things to do.
So WHAT if...I have an obsession with jackets and ballet flats?
So WHAT if...I could sit for hours and watch Tom & Jerry (the old shows) with Dude?
So WHAT if...when S and I talk about buying a house, we usually talk about a dishwasher as being one of our first purchases!
I have some other things that I need to get done this rainy Wednesday morning!
I hope everyone has wonderful week!