You should totally go check out Shannan at
Life After I "Dew"
and her "So what Wednesdays"! A fun little blog hop, that actually helps you feel a little bit better about all that stuff you're saying "so what" to!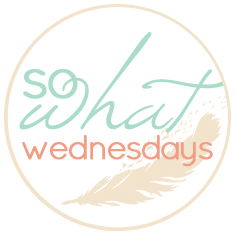 This week....for me?
So WHAT if...I smashed my eye into the library desk as I was bending over to put my boots on? I was paying more attention to Dude than to my surroundings or peripherally measuring the space around me. It still hurts like a bee-yatch though, and that sucks.
So WHAT if...I have blisters on my hands from all the raking I've been doing lately?
So WHAT if...we send Dude to bed early occasionally when he's being a booger-butt because he's so obviously overtired.
So WHAT if...I think that mine and S.s love story is the best story ever?
So WHAT if...I put on my wedding dress again the other day? It was at my moms house, and I was showing my dress to my SIL....so I took off my work shirt and left my jeans on....it was pretty funny....and it still looks gorgeous!
So WHAT if...our house isn't clean? We don't care, so you shouldn't either. We have a very active 3 year old and a very precocious 1 year old....there will be no such thing as "clean" until they are in their teens, we hire a nanny, or we hire a housekeeper.
So WHAT if...I got acrylics put on last week? I freaking love them and it had been so long that it was going to happen no matter what! So in love with my nails right now!
So WHAT if...I eat avocado in front of S? I love them and it's not my fault that he's allergic.

So WHAT if...I need to go grocery shopping today, but I'm procrastinating instead of making a grocery list. I usually fly by the seat of my pants in the store anyway...and I'm actually pretty good at keeping a running list in my head.

I guess that's it for now!
I hope everyone has a wonderful day and week!
Hug your babies and loved ones close
and keep Boston and all those affected by this tragedy in your thoughts.