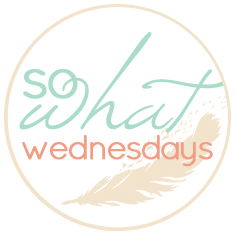 So WHAT: if I really really
really
like this particular blog hop?
So WHAT: if I've had clothes hanging on the line for a few weeks?
The kiddos threw up all over them
a few weeks ago and the smell lingered even after 3 washes and those clothes can hang on the line all summer for all I care.
So WHAT: if all of my blog posts lately have been related to blog hops? I haven't had time to write a "real" one.
So WHAT: if some days "Cars" is on a constant loop at our house?
So WHAT: if Dude spilled cocoa powder all over the floor yesterday while he was helping me make brownies? I plan on mopping today anyway.
So WHAT: if I don't actually get around to the mopping today?
So WHAT: if I'm crazy excited to go wedding dress shopping on Saturday? Let's be honest here: you know I'm going to try on silly dresses just for the hell of it!
So WHAT: if Princess hangs out in her tights and a shirt all day because she got her pants all muddy and when I took them off I didn't bother to put another pair of pants on her?
That's all for now! Although I'm sure I'll think of more later!
I'll make sure to save them for next week.