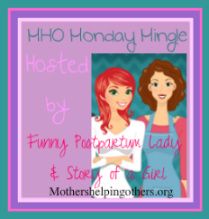 The MHO Monday Mingle #8
This Week's Theme: FOOD


1. Do you have a favorite food? One you just can't imagine living without?
Hmmmm...S asked me this just a few weeks ago and it's just as hard to figure out now as it was then. I absolutely adore Chicken Marsala, my grammies homemade dill pickles, Finnish bread, my moms yeast rolls, coffee, sugar snap peas, brie cheese.....I could probably go on and on and on. I'm not sure if any of these foods I "can't imagine living without?" but I really love all of them.
2. Do you prefer homemade or do you eat out a lot?
I prefer homemade, that way it's all the more special when we do go out to eat!
3. Is food comforting to you?
Not really, I've come to a point in my life where I eat because I know it's necessary. Most of the time I'm eating for the calorie intake and such, not for comfort. Not that I don't eat the occasional piece of chocolate because I'm craving it!
4. Do you have foods that you absolutely cannot stand that your significant other loves? Do you make it even if you hate it, or do you just force them to go without?
Hmmm....I don't think so. He likes a lot of foods that I don't, but they still end up in the house anyway! And there are nights that S cooks supper, so he will cook those things that he likes.
5. What's your go to food when you are just too tired to mess with anything else?
Let's be honest, I have 2 kids under the age of 4, so my "go to" ranges between peanut butter sandwiches and grilled cheese sandwiches, but these don't happen very often. We always have a frozen pizza in the freezer and I'm awesome at homemade shells and cheese, throw in some veggies and some biscuits and everyone is happy!
Head on over to this blog hop and check it out!!
I'll be honest with you from the get go....this has to be a fast one because I know the Dude is going to be awake soon and we have one busy day ahead of us!
Oh? Easter was this past weekend? I didn't realize.....
S and I procrastinated...life got busy and in the way, so we went and bought the kids Easter baskets on Saturday! Whoops! We knew exactly what we wanted to get them so it was so easy to get the actual presents....what was the problem? Finding baskets! And candy! What the hell?! Even Walmart had already gotten rid of its "holiday" candy aisle and it was already BBQ stuff for summer! Craziness! But when it comes down to it, I don't care how awesome our kids are, they are not being allowed to eat 2 pieces of candy a day, they can't even see the candy at this point because it's hidden on top of the fridge....oh, and we tell them "no" when they ask for candy. Other than that, they got: a toy lawnmower, a rake/shovel/hoe set, a bug catcher, movies (from my in-laws), a car coloring set (from my in-laws), a My Little Pony plush for Princess, a new fishing pole and puzzle for Dude, a huge blow up boppy toy with blow up gloves, and some other things! Some things for them to share, others for themselves. As you can tell, we love buying them presents and it's hard for us to say "when"!!
Before the candy was added!

Saturday night the kiddos actually spent the night with my parents so S and I went out on the town! We headed up to a hearby town to check out a bar that we've never been to because we heard there were pool tables and a good band playing that night. There were pool tables, the band was good, and we had an awesome time!
I went to pick up the kiddos on Sunday morning (we had told them that the Easter Bunny was coming to our house so they would get their Easter presents when they got home) because S was busy hiding the eggs and putting chocolates out (we couldn't leave them out over night, because our dog is a chocolate lover!) and it was so awesome seeing how happy the kiddos were when they saw all of their presents...S and I get such a huge kick out of it!

The rest of the day was spent watching movies, dozing, and playing outside with the kiddos with their new outside toys, an early supper then kiddos off to bed early since S was supposed to Skype with K. How did it go? Well, besides the fact that this little girl was eating sweet "holiday bread" (that was covered with sprinkles and frosting!) at almost 8pm when she's supposed to be going to bed soon, the call went pretty good. Surprise surpise. It is however hysterical to me and S that the Ex tries so hard to talk to S alllllll the time. It's sad that she tries to talk to S more than K does.

Then, a little later, S and I got to laugh over some pretty funny pictures!

All in all, it was a great weekend!

And now, like I knew, Dude is up and it's time for me to put the computer down!